Different types of tape have different sizes. As a tape manufacturer, we can customize tapes in any size according to customer requirements. The following are the sizes of common tapes and printing sealing tapes in the market for your reference.
1, What are the size specifications of common tapes in the market?
The width of common tapes are: 60mm, 48mm, 45mm, 40mm, 30mm.
The length of common tapes are: 50m, 100m, 150m, 200m, 500m.
The thickness of common tapes are: 45~55μm
According to the different objects used, different size specifications can be purchased. For example, the tape size commonly used in office is 45mm×100m×50μm.
Generally, small cartons use 4.5cm wide, and large cartons use 5.5cm wide. When purchasing, you first need to consider whether to use the previous specifications or another choice. Among them, you need to consider the size of the carton, the weight of the box, the tightness of the box, and whether you need to add a packing belt, etc., depending on the situation.
2, Below is the common width, thickness, and length specifications of printing sealing tape
Common widths on the market are: 3CM, 3.5CM, 4CM, 4.5CM, 4.8CM, 5.5CM, 6CM, etc.
Common thicknesses on the market are: 35U, 40U, 45U, 48U, 50U, 55U, 60U, etc.
Common lengths on the market are: 50Y, 100Y, 150Y, 200Y, etc.
The e-commerce platforms on the market have detailed tape specifications, such as the common specifications of e-commerce sealing tape 4.5CM×50Y×50u.
>>Custom PVC tape size


>>Custom washi tape size
>>Custom masking tape size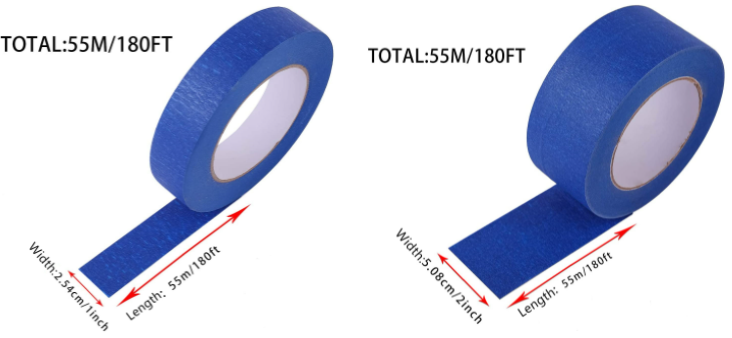 We can provice you OEM and ODM service. All kinds of tape size can customize for you! Please kindly send us an email for getting more customized information.