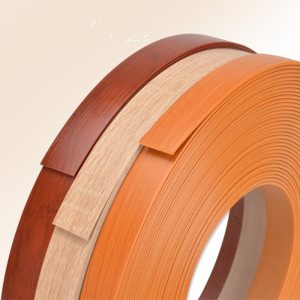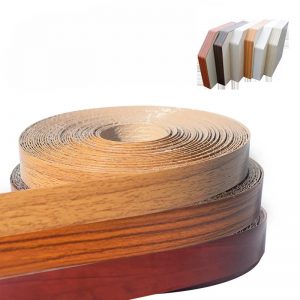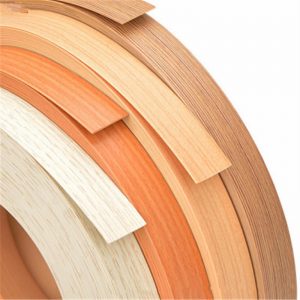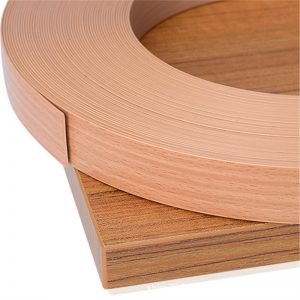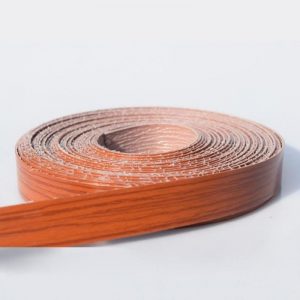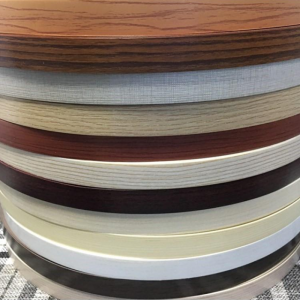 Hot selling high-end Edge tapes
Color
Solid color, wood grain, High glossy,  double color, etc.
Width
15-65mm
Thickness
 0.4-3mm
Surface
Matt finish, Smooth finish, Embossed finish, etc.
Application
used in sealing the edge of panel cabinet, furniture and door
Material
PVC, ABS and Acrylic
Advantage
OEM and ODM
Packing
0.45-1mm,50m/roll; 1mm and above, 100m/roll, or as the request of customer
Payment
T/T, LC
MOQ
1000m
Feature
scratch resistance, light resistance, chemical resistance, superior durability,  texture clear and vivid
PVC edge banding tape is mainly suitable for edge banding of micro riser, density board, blockboard, plywood, and solid wood edge banding.
It can be done by hand pasting and mechanical pasting when in use, but mainly mechanical pasting can improve work efficiency. The glue for sticking PVC edge banding is glue, hot melt glue, white latex glue, but hot melt glue is better. During the pasting, the PVC edge banding is firmly adhered to the surface of the wood through the action of mechanical interlocking, physical attraction, and chemical bonds. Therefore, the flatness of the substrate edge is required to be very high when pasting, and the general tolerance should not be greater than 0.1mm. The temperature of the board and the ambient temperature of the pasting work should be 18℃. The curing time of hot melt adhesive is generally 30 minutes, but high temperature adhesive depends on the thickness of the edge banding.
The applicable range of edge banding tape is basically similar to that of PVC edge banding. But it is best to seal the edge of the fireproof board. Both manual and mechanical edge banding will work;
The requirements for hot melt adhesives, white latex, etc. adhesives are not high; flat and rolling adhesives can be used in the market to choose adhesives; if hot melt adhesives are used as adhesives, the melt glue control temperature is 120℃~160℃, The pressure is 4-6/2, the curing time is 20-50 seconds, and the ambient temperature is 15°C for indoor pasting. In view of the fact that the edge banding tape has stronger permeability to hot melt adhesive than PVC, the amount of glue coating should be reduced when it is pasted with the board, generally within the range of 6-8g/linear meter.
In mechanical edge banding, the visual effect is that the glue layer is evenly coated and the texture is clear; the running speed of mechanical glue coating is 30-50 m/min, and the running speed of the edge banding and pasting is the fastest for all kinds of edge banding. , This can not only ensure the quality of the paste, but also improve the work efficiency, which is quite impressive.